Digitization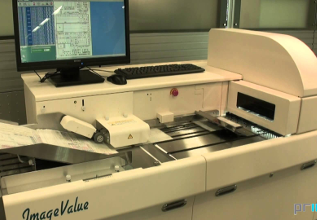 Do you have old books in your shelf that are getting eaten away by moths? Are you worried you will lose your books collection? Do you know you can digitize them and save them for ever? Do you know what is digitization? Are you a publisher and missing out on sales because you cannot print them in small quantities? Do you want to re-explore your market for old published materials? Do you want to archive all your old publishings from Microfiche, films to digitial text on the same format and font as your old publications? 
We provide End to End solution for digitization. We not only digitize your contents, but also edit and format the contents to the the same format - including page to page, para to para equivalent of the original book making it easier for researchers on quoting the publication date, page no and para no details.
We optionally create fonts if standard font of your format is not available. This will ensure that you never lose your original printed media's look and feel.
We ensure that all decorations of your printed media along with any photography, drawings and arts will be captured to ensure nothing is lost in digitization.
We provide all texts in Unicode format, completely searchable and editable.
We provide texts converted to various format including Kindle & e-pub format for immediate sale in virtual media - Kindle books and Apple / nook books. We can provide document in PDF for manuals, Freelance or Publisher for publication or just plain Word format for editing.
We host our own in-house application for digitization requirement. What this means to you is less manual entry and less labour and time. The cost benefits are passed on to you.
If you are a library or if you have a very good collection of old books, worried about scanners that will spoil the fragile pages - worry not! We bring our scanners to your place and will scan it for you. Our top of the range portable scanners are high resoultion, fast, accurate and open type which do not require your book to be folded or subjected to any stress.
We can provide digitization of any size document you have. Be it A0 - newspaper size or A6 pocket-size book. We can digitize them with our scanners.
With us handling your digitization needs, the next thing you will have to look for is recovering the cost of digitization. We can help you here as well.
We can create formats for you and help you host your books for sale in virtual media, with leading publishers like Kindle, Google, Apple etc., We can help you set up stores for you there with or without encryption.
If you prefer, we can set up an e-business website for you to host your virtual and printed media on your website or create one for you.
If you want us to handle the sale of your books, we can publish the books at our site and can optionally handle printed media logistics as well. Our costs are very low and in most cases you will only end up paying a small commission for what you sell!
Options are endless. Talk to us. Call us. Your initial consultations are always free!
Benefits of Digitization
Be it you are a professional publisher or a librarian or an individual book collector, digitization offers great benefits
Obvious benefit is storage. Large volumes of books can be stored in small inexpensive memory cards or on web based clouds for infinite time.
By skilfully digitizing the document media, you can preserve the exact format, look and feel of the printed media. This will ensure that you can always take a printed copy at any point and will still have the same replica of original printed media albeit new print
No special environmental requirement for preservation of the book. You can have multiple backups. Not to worry about books getting damaged by moths, floods or natural calamity.
Last but not least - availability of the books to future generations in the same original format, with the same font, images, photography and decorations that was originally published!